ZJ70/4500LDB Drilling Rig
Overview
ZJ70/4500LDB Drilling Rig
SINOPEC Shengli Oilfield Highland Petroleum Equipment Co.Ltd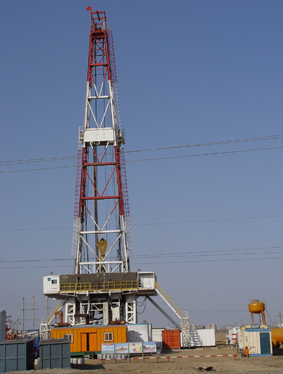 ZJ70/4500LDB Drilling Rig is suitable for 7000m (23000ft) well with 114mm (4.5in) drill pipe, in which the rotary table is driven by AC frequency conversion independence, the draw works and mud pumps are driven by mechanical.
Three set of diesel engine coupling and whole chain box are united to drive the drawworks, mud pump, rotary table, automated air compressor and energy saving electric generator.

2 Diesel + saving energy generator provide the electric.

The plate brake with the electromagnetism eddying brake (or Eton brake) is used together with the auxiliary device to the mast, drill automatically and drive in emergence

600kW, 400V AC frequency conversion motor driven the rotary table to adjust the speed .

The mast is K type structure, it can be up and down as one block, and satisfy for installing a 500tons Top Drive.

The height of drilling floor is 10.5m,and it is assembly with one operation in lower position.

The Drilling rig could equipped with VFD and MCC system. VFD used to control the rotary table motor and automatic bit feed motor .
Specification
Nominal Drilling Depth


DPφ127mm 4000~6000m 13000~19600ft
DPφ114mm 4500~7000m 14700~23000ft

Max. Hook Load — 4500 kN 1,012,500lb

Max. Weight of drill string — 2200kN 495,000lb

Power of Drawworks — 1470kw 2000HP

Number of hoisting speeds — 4 forward

Diameter of wire line for hoisting 38mm 1-1/2inch

Line strung of hoisting system — 6 X 7

Max. pull of fast line — 485kN 109,125lb

Dia. Of opening of rotary table — φ952.5mm 37-1/2in

Type & Number of Mud Pump — F-1600×2

Mast Type/working height — K/45m

Height of Drilling Floor — 10.5m

Clear height of drilling floor — 9m

Type & Number of Diesel Engine — A12V190PZL-3/0×3

Power of one Diesel Engine — 1100KW 1500HP

Rating speed of Diesel Engine — 1300r/min

Gas System


Capacity of gas storage — 2 + 2 x 2.5 m3
Max. working pressure — 1Mpa

Power of assistant Diesel generator — 400KW×2 (1088HP)

Mud Pipe manifold — 35MPa (Dia. 103mm)

Efficient capacity of slurry tank — 350 m3
General Layout
Five areas of rig layout:
Drilling floor zone: Include mast, base, rotary table and independent drive devices, lifting system, wellhead mechanical tools, hydraulic casing stabilizer and dog house, driller's console.

Engine house power zone: Includes three A12V190PZL-3/O diesel engine coupler sets, whole chain box, drawworks, power saving generator sets, automatic air compressor sets, diesel engine sets and air source cleaning devices, variable frequency drive(VFD)and MCC control house.

Mud pump zone: 2 F-1600 mud pump, drilling fluids valves, manifold and so on.

Mud processing and water tank zone: includes mud circulation tank, mud cleaning devices, water tanks and so on.

Oil tank zone: includes different types of oil tanks, pump and lines.


Rigs layout is in the follow diagram, area: 90 meters×75 meters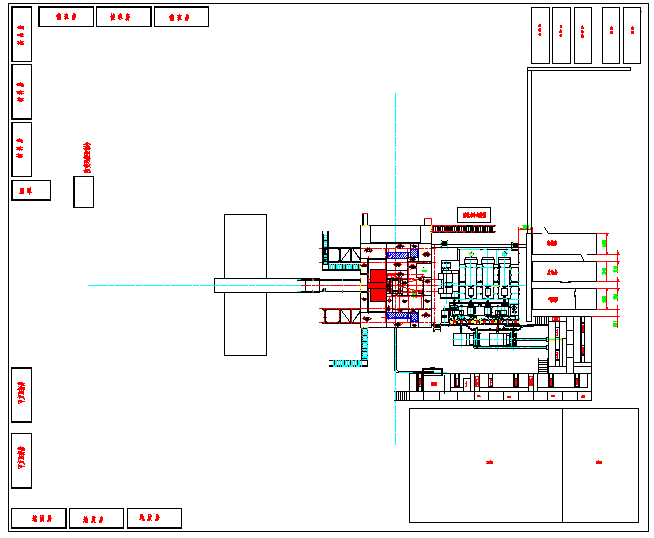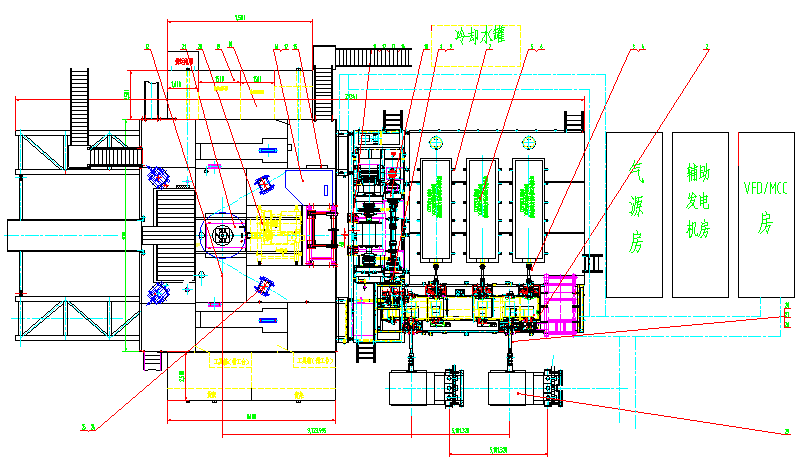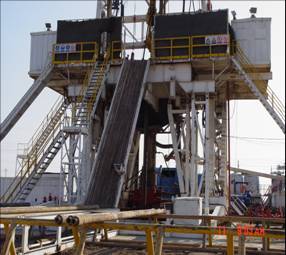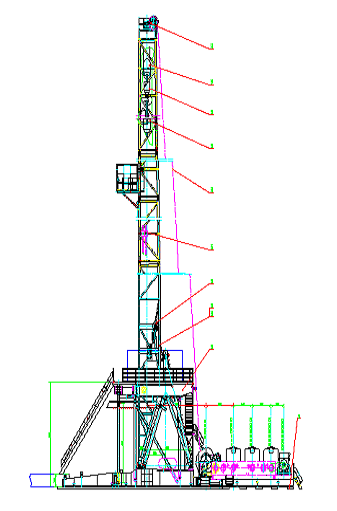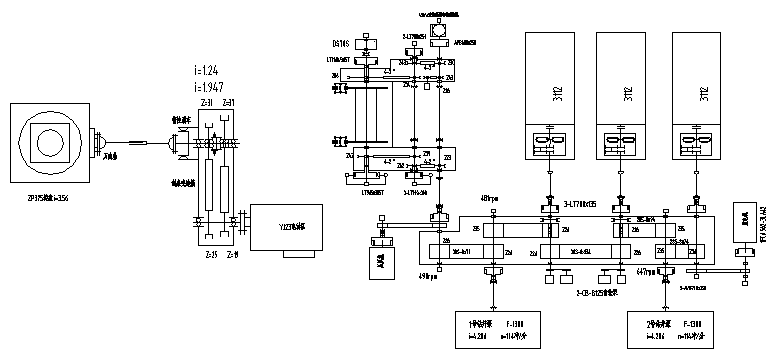 Component Introduction
JC70LDB Drawworks
Max. Input Power 1470kW (2000HP)

Wire line Max. Pull 485kN

Drum Diameter φ770mm

Drum Wire line Width 1310mm

Wire line Diameter φ38mm

Drawworks Gears 4

Hoist speed 0.216~1.36m/s

Automatic drilling control 45kW /400V

Drilling Speed 0.5-30m/h

Automatic drilling error 250Kg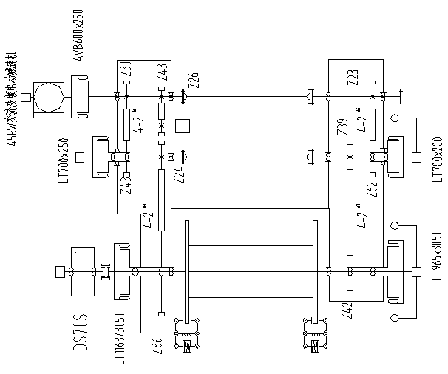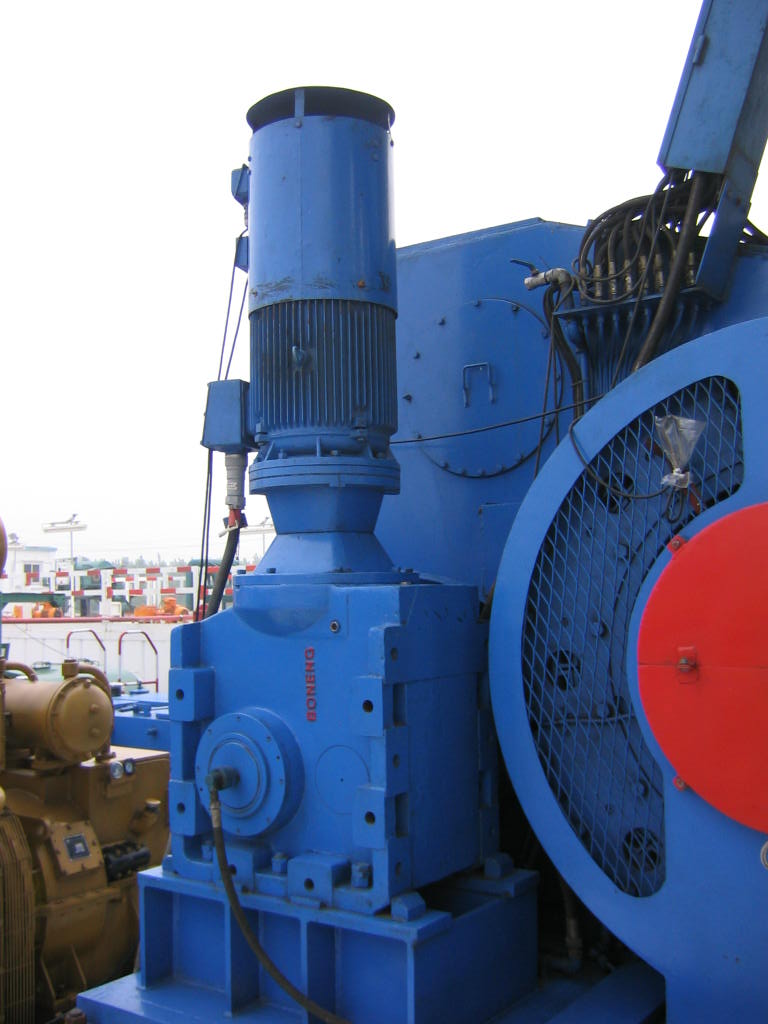 Low position installation, sealing structure, 4 levels pneumatic tyre clutch gear, lubrication, drum flute in compliance with the API specification;
Use fluid flat type brake, and use DS70S eddy- current brake (or 436WCBD eaton brake) as auxiliary brake, with 20 m3 fluid cooling system;
Variable frequency generator is for automatic drilling and drawworks drives, with crown block protector.
DZ450/10.5-S Substructure
Basic Parameter
Substructure rotary beam capacity 4500kN

Pipe setback maximum load 2200kN

Drill floor height 10.5m

Substructure height 9m

Back floor substructure height 0.8m

Pipe setback capacity (114mm drill- pipe) 7280m

Mast floor area 10m×12m
Advantage
Low position installation, whole structure rasing. Installations of bracket, floor are after the raising of drilling floor. Substructure are composed by front substructure and back substructure.

Front substructure is mainly composed by left and right basement, front column, center column, inclined flake frame, back column, standpipe plate, rotary table beam and so on.

Back substructure is mainly composed by motor basement, chain basement、drawworks basement and so on.

All the basement component are united together by cone bolt, it fulfills the requirement for devices installation, mast, basement lifting and rig operation.

Bailer drawworks can be installed if necessary. Basement in compliance with the API Spec4F which is 178 tons
Structure format and accessories
The structure of the basement is rotary lifting with high front and low back. All components are connected by bolt axis. Drilling floor, the main components and devices are all composed by one operation in low position. The whole thing can be easily raised or descend by using drawworks.

Mast is equipped with installation location for hydraulic catheads, hydraulic tongs, pneumatic drawworks tongs and some other devices. Mast also has rotary table and rotary table drive devices, driller control house and dog house.

Equipped with emergency walk, straight ladder and circle ladder, electrical industrial elevator. Two 20 tons hydraulic BOP suspending device are under the drilling floor. Mud reclamation devices are also equipped

Broaden floor are set in the left of back basement, In the broaden floor, softening water tank, used engine oil tank, two 1.5t suspending device and a 2m3 air storage tanks are equipped.
Substructure side view

Substructure plan view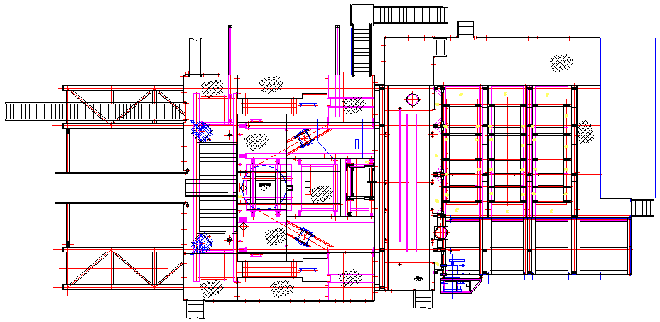 Front substructure, low basement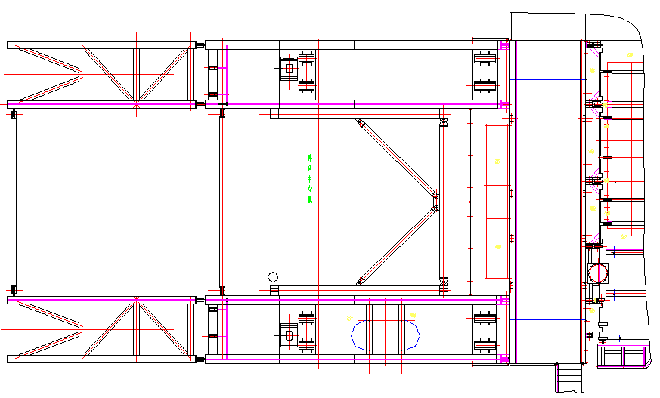 Substructure hoist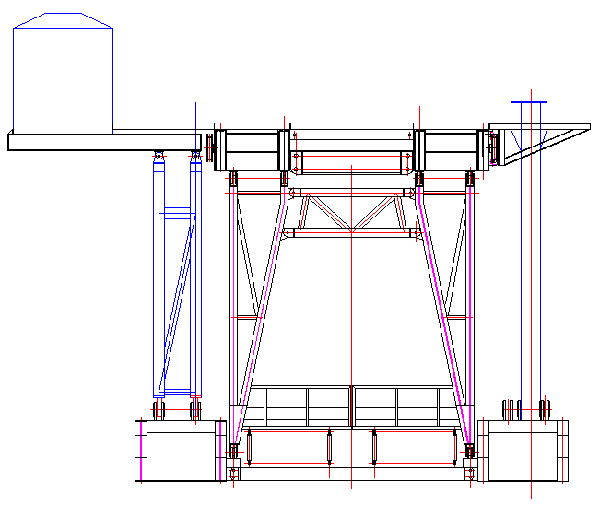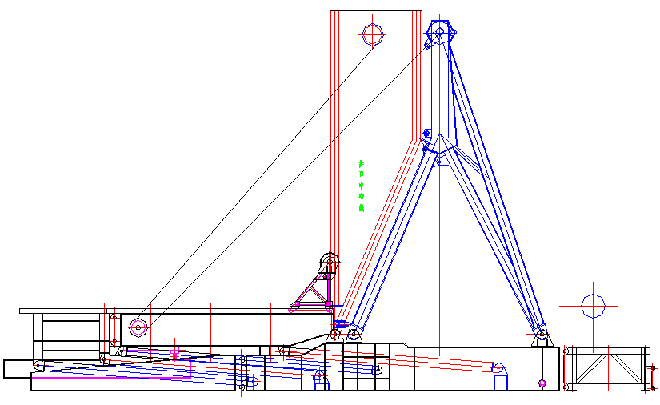 JJ450/45-K Mast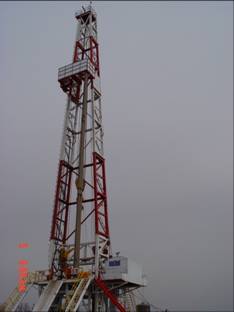 It is composed by mast main frame and gin pole. Gin pole is equipped with hydraulic snubber devices which is used during raising and descending mast. Dead line protector, adjustable centralizer floor, tong bucket, aid climb device, fast line stabilizer installation supporter, two 2.5 tons suspending device, three weight sheaves and emergency devices are equipped on mast.
Lager and small supporters and transportation supporter are also equipped to raise and descend mast. The mast is assembly with one operation in lower position. Mast fulfill the requirement to install 500ST portable roof drive devices. Mast is in compliance with the API 4F specification. The weight is 105 tons.
Basic parameters:
Max. Hook load (6×7lines) 4500kN

Mast type/working height K/45.5m

Wind capability:

Rig dowmtime status (No-HP, Full stand pipe) 36m/s

Keep devices status (No-HP, No stand pipe) 47.8m/s

Mast raising and descending 8.3m/s

Stacking capacity (φ114mm drill pipe 28m stand pipe) 7280m

Two level floor installation height 24.5m, 25.5m, 26.5m
Structure format and accessories
Mast is front open type,main frame is made by wide edge 工 shape steel. Mast is composed with low position,connected by double cone bolts. Use rig drawworks or auxiliary motor devices to raise or descend the whole mast.

Ladders to the mast crown are at the left of mast. Ladders to the racking platform at the right of the mast are equipped with aid climb devices, 2.5t suspension pipe and hydraulic snubbers.

One 5KN pneumatic drawworks, 270° swivel camera, emergency devices are equipped on the racking platform. Anti-wind wall are set at three sides of it.

Mast is equipped with tongs stabilizer devices, dead line stabilizer, stand pipe floor, casing centralizer floor. All the layout are well organized.

Mast fulfill the installation requirement of 500 tons of roof drive devices.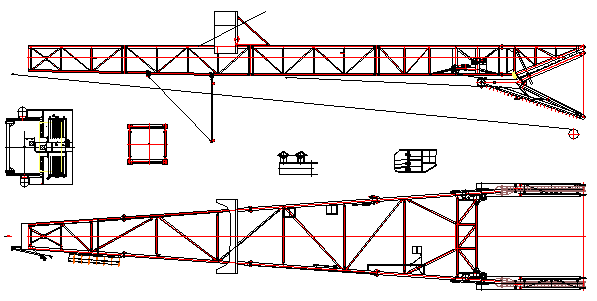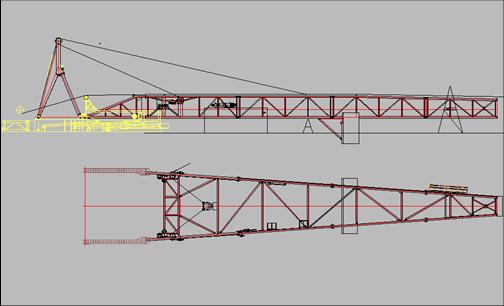 Compound chain gear box
The box is welded as a whole, the ground boring machine is applied to finish all the axis hole process with one operation to guarantee the parallelism and accuracy among all axis. 8 rows 1¾″roller chain drives are applied; Force-feed lubrication is applied on Chain drives and axis . Electronic oil pressure sensor is also applied. Two 1600 drilling pump and drawworks are driven by universal axis. An air compressor and a 790KVA generator are driven by joint group with a narrow V-type belt. Heat exchange coil is applied internal of devices to improve the applicability of devices.
Rating Input Power: 1100 kW×3

Rating Input Rotate Speed: 650 rpm

With pump Max. Power: 1176 kW×2

With drawwork Max. Power: 1470 kW

With generator Max. Power: 600 kW
Drive sketch map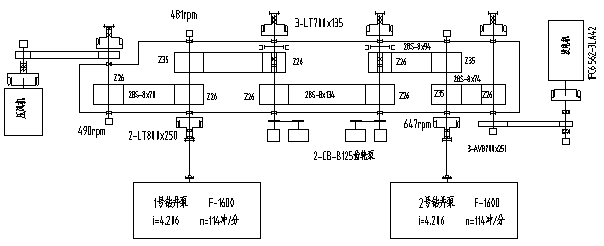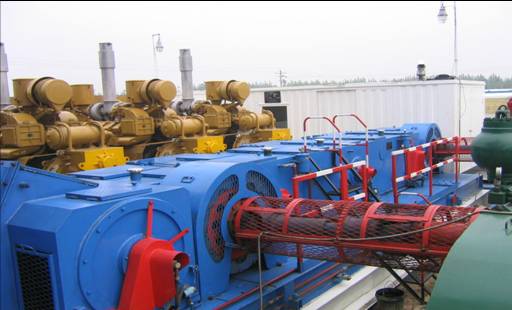 Rotary table driven box
Rotary table drive box is composed by 600kW/400V variable frequency AC motor, two forwards gear down speed, pneumatic tyre inertia brake, driven rotary table universal axis.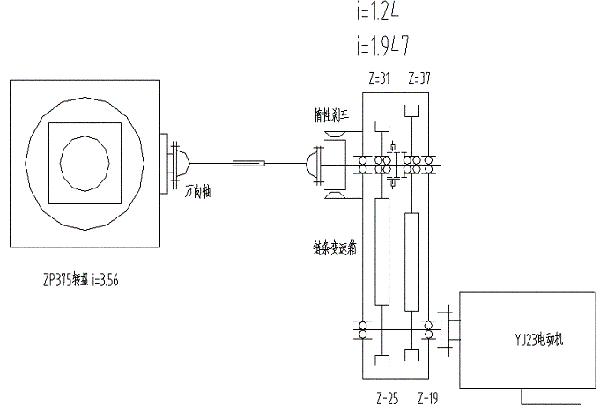 Input rotary speed: 672rpm

Output rotary speed: 0~240rpm

Rating torque: 38000Nm and 60000Nm
It can fulfill the requirement for the Max. Rig torque. When running properly, electronic control system should limit the torque to guarantee the safety of rig.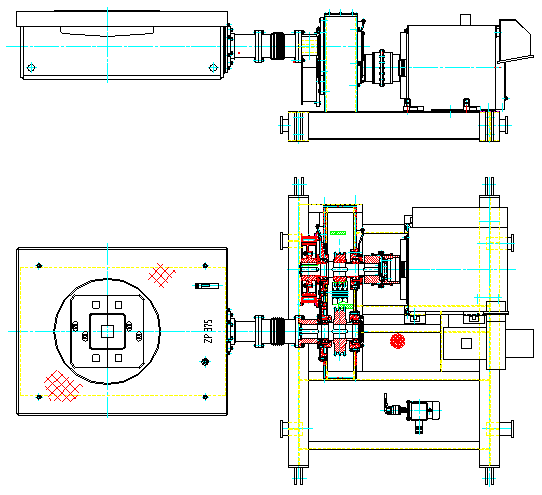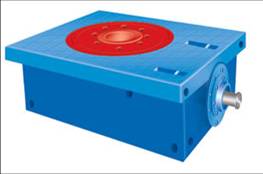 Rotary table
Model: ZP-375

Hole diameter: 952.5mm (37½")

Max. Load: 5850 kN

Driven Rate: 3.56

Max. Rotary Speed: 300 r/min

Max. Working Torque: 33000 N.m

In compliance with API Spec7K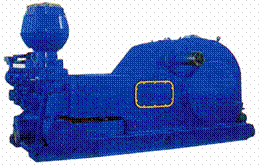 Mud pumps
Model F-1600

Rating Input Power 1176kW

Rating Stroke 120/Min

Designed Stroke 114/Min

Max. Pump Pressure 35 MPa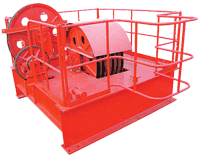 Crown block
TC-450 Crown block
Max. Load: 4500 kN

Steel Wire Rope Diameter: 38mm

Main Block Number: 7

Main Block Diameter: 1524mm

Bailer Block Number: 1

Auxiliary Number: 4

In compliance with API Spec 8A, API Spec 4F
Travelling block
YC-450 Travelling Block
Max. Load: 4500 kN

Steel Wire Rope Diameter:
38mm

Main Block Number: 6

Main Block Diameter: 1524mm

In compliance with API Spec 8A Rules
Hook
DG-450 Hook
Max. Load: 4500 kN

Hook Opening diameter:
220mm

In compliance with API Spec 8A Rules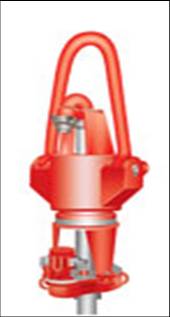 Swivel
SL-450 Swivel
Max. Load: 4500 kN

Max. Rotary Speed: 300r/min

Max. Working Pressure: 35 MPa

In compliance with API Spec 8A Rules
Drill Instruments
Equipped with Wellwizard™ drilling parameter automatic monitoring system manufactured by Datalog company or Shanghai Shengkai drilling meters and so on (Decided by user). Real time monitor the whole construction process and provide reliable parameter and evidence for the drilling construction.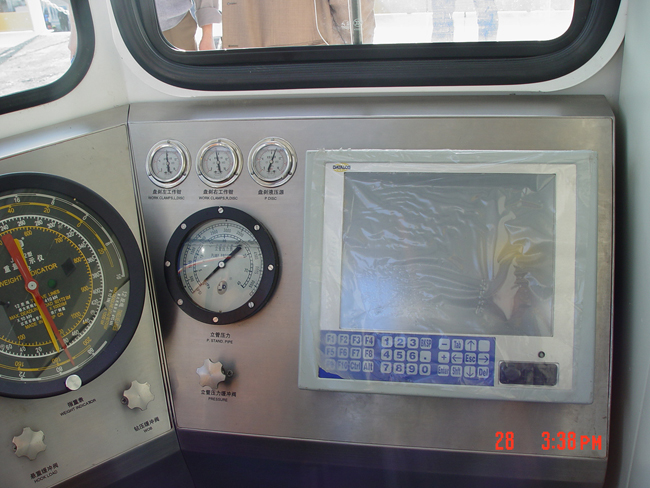 Power System
Main Power:A12V190PZL-3/O Diesel engine coupling machine set manufactured by Ji-Chai. It output power to chain combination operation box through universal shaft.

Energy saving electric generator: 790kVA electric generator output power through combination operation box and driven by narrow V-type belt.

Auxiliary generator set: equipped with two 400kW/400 V.

Control variable frequency generator driven rotary table through electrical transmission system. Control emergency drawwork and automatic drilling AC generator.

MCC house arrange the power to the AC main bus to control all the AC electronic devices like variable frequency generator, lighting system, living support system and so on.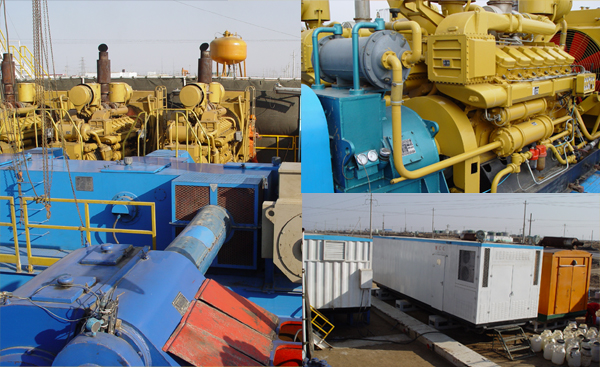 Electrical driven system
In electric drive system, a 630kW/400V variable frequency cabinet control the rotary table motor 600kW/400V which is driven by the variable frequency motor. A 55kW, 400V variable frequency cabinet control variable frequency motor of the drawwork, to realize the emergency function and automatic drilling function.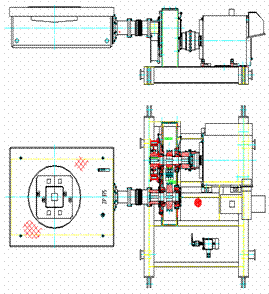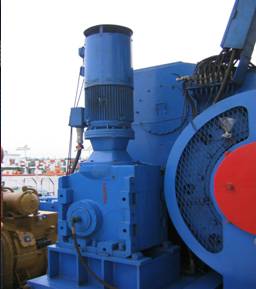 45kW emergency variable frequency motor can protect from the drilling accident by gradually moving the drilling tool when the drawwork is not working or not able to work. It is also capable to realize automatic constant speed drilling and constant pressure drilling.
MCC arranges the power to the AC main bus to control all the AC electronic devices like AC motors, lighting system, living support system and so on. Cables are all installed in cable ditches. All cables toward mast floor, fixed control system and water/oil support area are connected from the external plugs of electrical driven control house and are connected to the cable ports of the cabinet and electric motor through cable ditches.
Gas system
Gas system is composed by compressed air source unit, air storage tank, connection manifold and control system. Air source unit is composed by a screw automatic air compressor , an electrical screw air compressor with cooling system and oil- water separation system, a drier, two air storage tanks, air filter, oil frog unit and electronic control box. It is equipped with automatic control devices. It will stop the pump when the air pressure is lower than 0.8 MPa or higher than 1 MPa.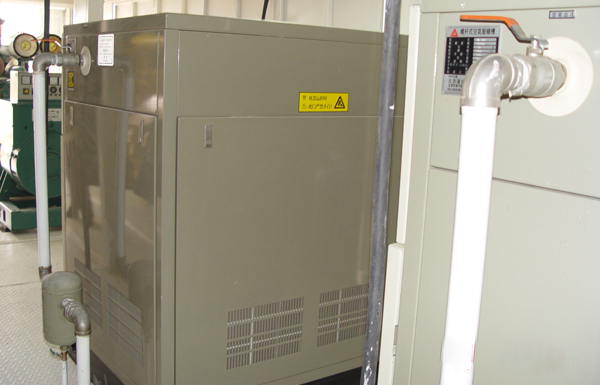 High pressure slurry pipe
Working Pressure 35MPa
nominal diameter Φ103mm (4")
Double stand pipe is applied, and one of pipe is increase to be 22.5m high to prepare the stand pipe joint when using roof drive. Reserving the positions for the joints and valves for drilling parameter meters, well log meters, well killing manifolds, pump pressure meters, grout pipe to fulfill the requirement of the operations like drilling, well cementing and well killing. All the hoses are fixed.
Side room of drilling floor
Two dog houses are equipped. The wall of left dog house is made by 3mm corrugated steel and 50mm thermal insulation layer. Floors in dog houses are equipped with anti- slippery layer, explosion-proof air conditioner, explosion-proof heater. Enough quantity of electricity ports are considered. It can be divided into three parts. The front part is equipped with multi-function hydraulic pressure station and it is a open structure which face to one side of the drilling floor. The middle part is rest area, equipped with desks, chairs, notepads, diagram windows, well- control remote console and bottom open pipe slots. The back part is equipped with disc brake hydraulic pressure sources and mast drilling floor electronic control box.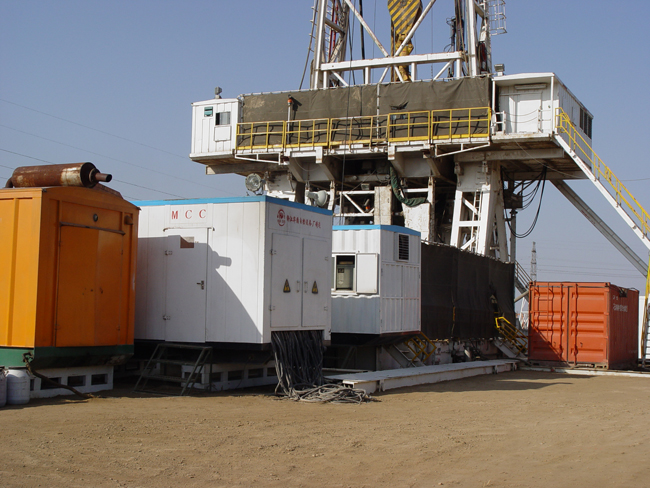 Right dog house can be divided into two parts: front part is equipped with well- head tools. Back part is repairing room with tools cabinets, work desks, heaters and explosion-proof electricity distribution box for the whole mast drilling floor.
Combined hydraulic station
A hydraulic/air pressure tong machine pump set, two hydraulic pressure disc brake machine pump sets, a gasoline and cooling circulation pump set, oil tank and electronic control system compose the combined hydraulic station. It support the hydraulic pressure for hydraulic tongs, hydraulic catheads, snubbers, hydraulic casing tongs, hydraulic disc brakes.
Driller control room
The main construction materials for the room is stainless steels. In the room, integrated designed electronic control operation desk and rig hydraulic/air operation desk are equipped, and the whole rig can be controlled to conduct all different kinds of drilling operations.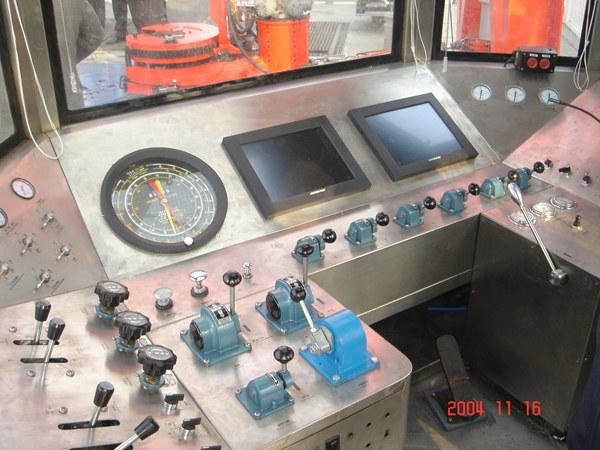 All devices in the room are explosion- proof. Electronic control operation desk is positive pressure explosion-proof. The operation desk is largely downward inclined for clear observation and having more space. Besides the installation of operation system, weight indicators, monitors for drilling meters, monitoring devices screens are also installed. It is a personalized design. Industrial explosion-proof air conditioners, multi-layer plastic folder glass, roof protectors and wipers are installed.
Oil and gas system
The system is composed by oil tanks, water tanks, oil/water/air supply ground pipe-line slots, mast drilling floor cable slots and manifolds of related systems.
Oil- resistant airproof items are applied in oil supply pipe. All the valves are stainless steel valves.
Ground pipe slots have the interfaces to oil tanks and water tanks.
Oil supply and water supply systems are made to be anti-freeze and thermal insulated. It is guaranteed that rigs can work properly in a -350C environment.
Parts for Assemble
Includes universal shaft, connecting board, fasteners, guards, joints, lines, encoder discs, transmitters, all different kinds of valves, switches, part joints mechanical room shelters and so on. Incremental encoders are installed on free end axle of motor and gas leader of drawwork drums separately.
Drilling floor, machine pump room, mud processing system are equipped with sand-proof shelter.
Others
Closed condition Electromagnetic valve with 1 Mpa nominal pressure is used to connect or cut off emergency motor clutch access. The control bus is connected to a intermediate relay of console. The relay is connected to a certain output of PLC.
There are two pressure switches whose nominal pressure is 1Mpa. They are connected to the control access of high and low speed clutches separately. The function is to judge if the high and low speed clutch is separate. When the high and low speed clutch is on, once PLC detect the signal, electromagnetic valve will cut off and control the converter to stop the motor.